Our Fleet
Click on a yacht below to find more details
Orion I – Cyclades 50.5
Beneteau Cyclades – 2008
Orion II – Cyclades 43.4
Beneteau Cyclades – 2008
Orion III – Jeanneau 42.2
Jeanneau Sun Odyssey – 1998 (fully refurbished 2013)
Orion IV – Cyclades 50.5
Beneteau Cyclades 50.5 – 2009
Sirene – Cruiser 42
Bavaria Cruiser – 2008
Lolita – Cruiser 36
Bavaria Cruiser – 2014
Deda Sailing
We specialise in sailing yacht charters
Deda Sailing
We are based in Volos, the nearest big port to Sporades, an archipelago along the East coast of Greece. We offer a range of yachts, available for bareboat charter, skippered charter, flotillas or day charters. From time to time we also post travel tips or maps about local treasures that might help guide you in your sailing adventure.
GLAVANI 50, VOLOS, P.O.BOX 38221, GREECE
www.dedasailing.com
info@deda-sailing.com
+447894313120 (UK) - +306948040980 (GR)
Boats

Find details and prices for our boats

Different destinations

Click here for suggested itineraries

Treasures

Discover hidden treasures in Sporades

Happy clients

Click here to find what our customers think
What our customers say
Don't listen to what we say, take it from our customers who come back year after year...
Get in touch
Drop us a line...
LATEST NEWS
Add a subtitle in Customizer, "Latest news section"
Day 1: Skiathos Day 2: Alonnisos Day 3: Kira Panagia Day 4: Skopelos Day 5: Peuki Day 6: Trikeri Day 7: Check out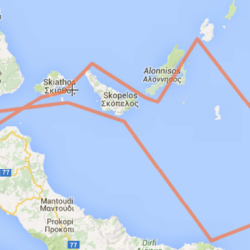 Day 1: Orei Day 2: Skiathos Day 3: Skopelos Day 4: Alonnisos Day 5: Kyra Panagia Day 6: Skatzoura Day 7: Skyros Day 8: Kimi Day 9: Alonnisos Day 10: Skopelos Day 11: Skiathos Day 12: Achillio Day 13: Milina Day 14: Check-out
Previous
Next